-- Sorry Mac. users, I can't help you with anything in that area. However, I can help people running PCs or laptops on Windows operating systems. I'm most familiar with Windows XP Professional, so that is how I will model the majority of this guide.
-- If you have any questions about any other Windows OS (operating system), just ask them here and I will try to answer them (or someone else can answer them if I don't get around to it fast enough).
Menu:
1) Cleaning your laptop/PC
2) Anti-Virus Protection
3) Organizing Your Computer
4) Graphics Card
5) Freeing Up Space on your Hard Drive
6) Increasing Boot Speed
Cleaning your laptop/PC:
This is literally cleaning your laptop/PC, not eliminating viruses.
1)
There are two basic things that you will need:
Air Duster
Anti-Static Monitor Wipes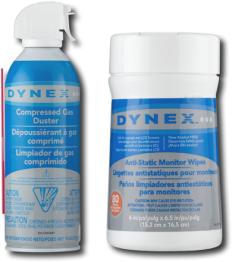 -- I recommend Dynex. The anti-static wipes are safe to use on LCD screens (MAKE SURE THE WIPES YOU GET ARE SAFE TO USE ON LCD SCREENS). You can use those for wiping down almost any part of your computer, but NEVER wipe your hardware that is inside your computer. That's what the compressed air is for! Keeping your computer dust-free is very important! It can help keep it running longer and better and it is always nice to be playing on a clean computer. Nobody likes dirty keyboards and screens!
-- Since towers for PCs aren't all the same, I cannot tell you how to open it up to clean out the dust. If you don't know how to your tower, you might not have any business being in there anyway! Also, laptops aren't generally something you want to crack open, but you may do that ONLY if you know exactly what you are doing!
-- I'd like to point out to those of you that might not know, your hardware can be ruined by something as small as a shock from your finger due to static electricity! So, unless you are taking proper precautions to avoid the transfer/production of such electricity, DO NOT DIRECTLY TOUCH YOUR HARDWARE (that is inside your computer).
2)
Keep your screen clean with those wipes and your keyboard clear of any food, hair, dust, or whatever. A dirty screen only makes it harder to play and you don't want your keys getting stuck! Also, make sure any openings on your computer are clear of dust and can easily bring in cool air / push out hot air. You should use the compressed air for this.
Anti-Virus Protection:
1)
First of all, you do not want to have more than one anti-virus program running on your computer! All this does is unnecessarily slow down your computer by adding more processes and services to it. You only need one anti-virus software!
2)
The anti-virus software I recommend is AVG or Microsoft Security Essentials. These are both free! There are AVG products that you can buy, but they aren't necessary. They are helpful, though. AVG is just as good as McAfee and Norton, but it is free. In the past couple of years, Microsoft Security Essentials has become very good. Most would say that is has become better than AVG. If you are running on Windows VISTA or Windows 7, I suggest using Microsoft Security Essentials. Windows XP is almost phased out, so AVG is sufficient enough for any version of Windows XP.
3)
You need to make sure that you do not have any viruses on your computer and you should become familiar with the processes on your computer. This means that you will need to become familiar with a thing called the "Task Manager". The simplest way to bring up the Task Manager is to press
Ctrl Alt Delete
(press them at the same time, and "delete" is not the same thing as "backspace").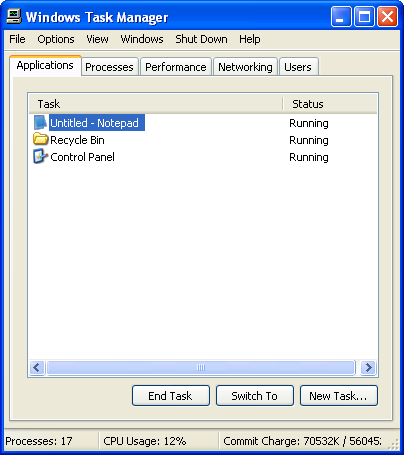 -- If it brings you to a screen that is not the Task Manager, you may have options like "Lock Computer", "Shut Down", "Log Off", etc. The Task Manager should be one of the options, so just click on that.
-- Now, the Task Manager should be open and there should be tabs like "Applications", "Processes", "Performance", "Networking", and "Users". I'll be talking mainly about the "Processes" tab.
-- If you have more than 80 processes running (it should tell you in the bottom left corner), then you probably have a lot of unnecessary processes that are slowing down your computer. However, that's just a guess. You could have 100 processes running, but have a quad-core processor with 8GB of RAM and a good Hard Drive and that would probably not even put a dent in it. If you're CPU is running at more than 30% and all you're doing is browsing the internet, you probably have too many processes or something is taking up processing power that doesn't need to be (or it might be time to upgrade to a newer computer with a better processor and more RAM).
-- Determining what processes are necessary and what ones are not necessary takes a long time. You should also check each of your processes to make sure that none of them are viruses. Some viruses pose as legitimate processes and are very harmful to your computer, which means that you will not only have to look up what each of your processes are supposed to do, but you will have to search your entire system to see if they are in their appropriate locations (viruses will be named something that is legit, but be located somewhere other than where the legit process should be). Google is your friend when it comes to this. Google each of your processes. If something looks fishy, try looking up instructions on how to identify and verify it.
-- If you are not doing anything (all programs are closed and your computer isn't doing anything at all), your "System Idle Process" process should be using anywhere between 80%-100% of your CPU. YOU WANT THIS. It means your computer is working appropriately. If it is consistently below 80%, something on your computer is pulling a lot of processing power. You may want to get rid of that.
-- DO NOT END PROCESSES!!!!! This can damage your computer if you just end processes while in the Task Manager. Do not do this unless you know EXACTLY what you are doing. It's more complicated than it sounds!
-- You can end tasks under the "Applications" tab, but do not end processes under the "Processes" tab. If a program freezes, probably the safest way to end it is through the "Applications" tab in the Task Manager.
-- DO NOT HOLD THE POWER BUTTON UNTIL YOUR COMPUTER SHUTS DOWN. This is for extreme emergencies only! Only do this if there is no other way to shut down your computer!!!!! This can damage your Hard Drive because it is not stopping/shutting down properly! It has the same affect as pulling the plug while the computer is on!
Organizing Your Computer:
-- You may think that organizing files on your computer will not have any affect on its performance at all. Well, that is partially true. It does not have a
noticeable
impact on the performance of your computer. However, leaving many files in a location such as your "My Documents" folder is not very efficient, so organize your data!!! It will make things easier for you. Having many desktop icons (such as shortcuts) and having folders on your desktop are things that you do not want to do as this
can
decrease performance of your computer. To make things clear, here is a visual of
what not to do
:
-- Notice that there are folders on the desktop and that there are unnecessary desktop icons. I do not need all that on my desktop. You should only have your recycle bin and a
few
other icons.
Graphics Card:
-- For this, I will be explaining it from my point of view using my laptop. I have an NVIDIA Quadro NVS 160M graphics card in my current laptop. With most NVIDIA graphics cards (on Windows OS) you can simply right-click anywhere in the desktop area (except on an icon) and there will be an option "NVIDIA Control Panel".
-- When you click on that, this is what should open up (if you have the same GPU that I do), or something similar.
-- To increase overall performance of your computer, put your graphics settings on "Performance." If you are running and 64-bit system with a decent graphics card and more than 4GB of RAM, you can do whatever you want. This is just to try to make sure people are getting the best possible frame-rate with their computers while playing games.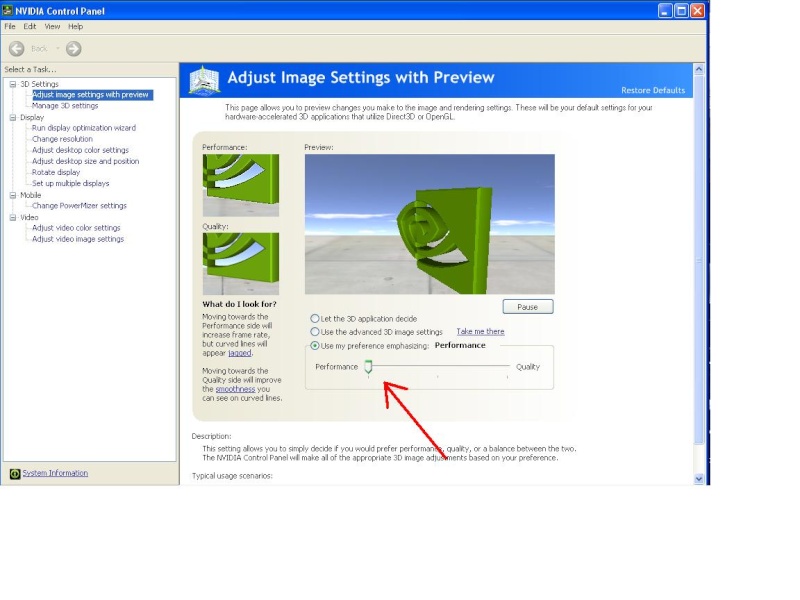 Freeing Up Space on your Hard Drive:
-- This is a minor tweak if you keep your computer organized, virus-free, and you don't keep massive amounts of old files. This isn't a necessary thing to do, but it can help make a little bit of room on your HDD if you are running out of space. Before you do this, make sure you go through all of your files and delete anything you don't want/need or back-up files you want to keep. If you don't have an external hard drive to back-up your files on, go through everything on your computer and organize it as best you can so that you can easily find any file you want. What this does is it compresses "old" files on your computer to make more room. "Old" files are ones that have not been accessed in a specified amount of time.
-- To begin, click "Start," then click "Control Panel," then click "Performance and Maintenance."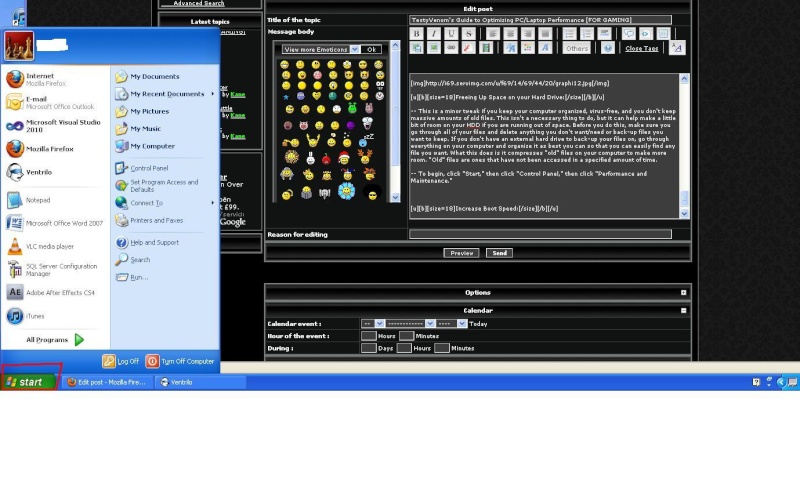 //////////////////////////////////////////////////////////////////////////////////////////////////////////////////////////////////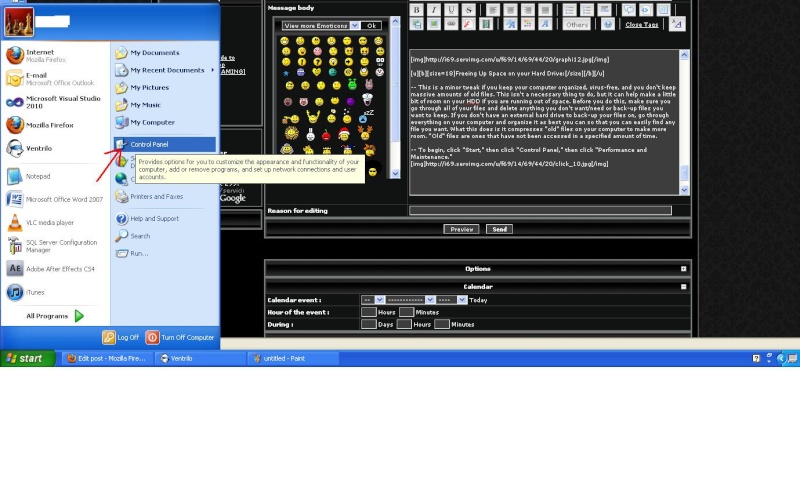 //////////////////////////////////////////////////////////////////////////////////////////////////////////////////////////////////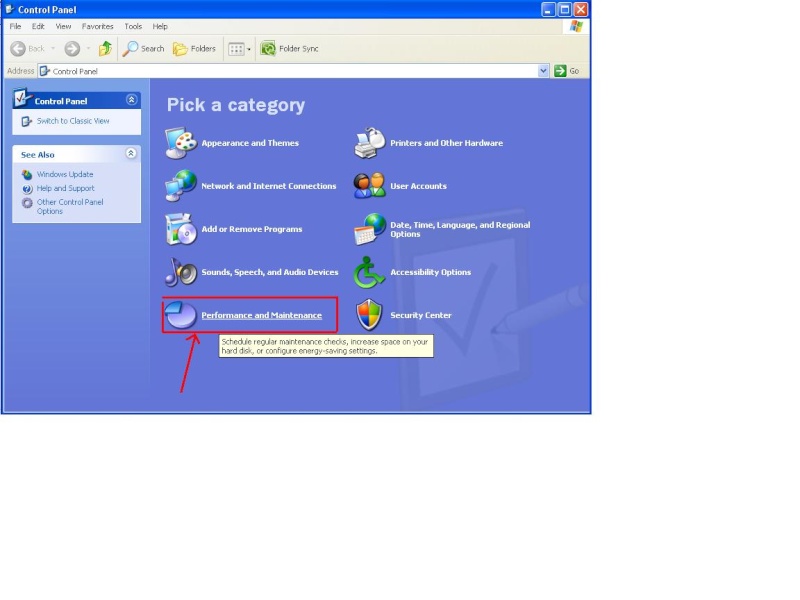 //////////////////////////////////////////////////////////////////////////////////////////////////////////////////////////////////
-- Now click "Free up space on your hard disk."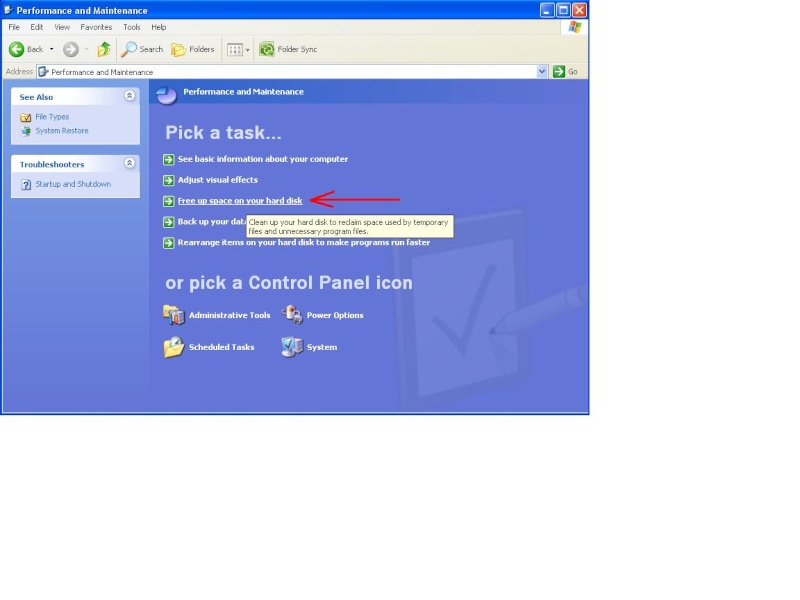 -- You will get a message like this:
-- Let it complete its scan. It may take a while. This could take anywhere from a few seconds to hours. Do not interrupt it. You should get something that looks like this:
-- When you highlight a category, a description of that category is provided below. The category options you will be given will be similar to these:
*** Downloaded Program Files
*** Temporary Internet Files
*** Microsoft Error Reporting Temporary Files
*** Recycle Bin
*** Setup Log Files
*** Temporary files
*** WebClient/Publisher Temporary Files
*** Compress old files
*** Catalog files for the Content Indexer
-- Personally, I never choose "Compress old files" because it can cause you to inadvertently corrupt an important file that you may want. While this is useful for freeing up space on your HDD, it is not the best thing to do. Simply organize your files, back them up on another HDD, and remove what you do not need. The options I would select are (do not select anything but these):
*** Temporary Internet Files
*** Microsoft Error Reporting Temporary Files
*** Recycle Bin
*** Temporary files
*** WebClient/Publisher Temporary Files
-- Temporary files are not absolutely necessary for everything to work. If a temporary file becomes corrupt and conflicts with something, it is much easier to fix than a file within a program or a project file. Temporary files are exactly what they sound like: "temporary." To fix a temporary file, all you should have to do is delete it and then run/do whatever it was that created it. They are really only there to help thing run/load faster after the first use. Temporary internet files are especially useless if you have a decent internet connection and a good computer, so they can be deleted completely if you desire. You should never keep anything in your Recycle Bin if you know you do not need/want it. Make sure to empty your Recycle Bin before running Disk Cleanup, but select it when running Disk Cleanup, anyway.
-- There should be another tab at the top that says "More Options" and that will have options like "Windows Components," "Installed Programs," and "System Restore." I'm not going to cover these; it is not necessary. If you know how to handle those, then you may do as you wish. If you do not know, then I would advise against doing anything with those.
Increase Boot Speed:
-- Click "Start" and then click "Run...".
-- Now type in "msconfig" and click "Ok."
-- This will bring up the "System Configuration Utility" window. The tabs that should be available are:
*** General
*** SYSTEM.INI
*** WIN.INI
*** BOOT.INI
*** Services
*** Startup
*** Tools

-- The two that we will be using are the "Services" and "Startup" tabs. Do not change anything under any of the other tabs. You can seriously damage your computer or prevent important things from running if you mess with the stuff under the other tabs and you don't know what you are doing. You must also be very careful when altering settings under the "Services" and "Startup" tabs. The "Tools" tab lists computer tools and gives a description of each tool. You can also run the tools from there, but we will not be using this tab.
-- If you have ever been annoyed by how slowly your computer starts up because it has to load a bunch of programs, you are going to like editing these settings. First, look in the "Startup" tab and try to figure out what "Startup Item(s)" are associated with what programs. An obvious one is "steam." Steam starts on my computer every time I turn it on because I have it set to launch at startup. Here's what this looks like:

-- I just disabled "Impulse Now," "GamersFirst LIVE!," "Origin," "steam," "uTorrent," "VCDDaemon," "hamachi-2-ui," "AdobeARM," "Reader_sl," and "GrooveMonitor." These did not affect any important software when disabling them, so it is safe to do so. Make sure that when you prevent something from running at startup that it is not necessary or part of another program or piece of software. This should decrease the amount of time it takes for my computer to startup.
-- To disable a "Startup Item," uncheck the box associated with the item. Then, click "Apply." Make sure you click "Apply" before you click "OK."
-- Now, go to the "Services" tab. What you can do with this is disable services currently running on your computer if you do not want them to be active. I do not recommend disabling anything related to Fonts, Audio, Video, most things with "service" in their name, anything related to networks/internet, anything related to security or anti-virus, anything with "Windows" in the name (not the manufacturer), logs, notifications, and there is much more, but I do not feel like listing everything. I will just give an example of what is acceptable.
-- I disabled "Steam Client Service," "PnkBstrA," "Microsoft Office Groove Audit Service," and "LogMeIn Hamachi Tunneling Engine" because they were activated at some point and I do not need them to be running. I know I do not need "Microsoft Office Groove Audit Service" running because I do not use MSO Groove Monitor and it should not cause a conflict when using an MSO program like "Word." Seriously, do not disable a service unless you absolutely know it won't cause an error within your system. Disabling these services should free up some RAM and processing power; even if it is only a minor difference, it is still a difference. There should not be many moments when you will need to do this and there shouldn't be many services that you can safely or should disable. Never disable a service that is associated with a program that you are currently using (i.e. do not disable and "PnkBstr" or "PunkBuster" services while playing an online game). Just because it does not say "Essential = yes" or "yes" under "Essential" in the "Services" tab, that does not meant that it is not essential for what you are currently doing. *
Make sure you know what everything is and what they are associated with. Do your research before modifying anything in "Services" or "Startup."
*

-- To disable a service, uncheck the box associated with the service and click "Apply" before clicking "OK." Do not click "Disable All" at any point.
-- Once you are finished modifying your settings, you may get a message like this:

Things to Know:
-- "Run..." Commands:
1)
msconfig
2)
services.msc
3)
dxdiag
4)
ipconfig
-- Terms to know:
1)2)3)4)Menu:
1) Cleaning your laptop/PC
2) Anti-Virus Protection
3) Organizing Your Computer
4) Graphics Card
5) Freeing Up Space on your Hard Drive
6) Increasing Boot Speed
THE GUIDE IS ESSENTIALLY COMPLETED, HOWEVER, I WILL CONTINUE TO ADD MORE INFORMATION AT MY LEISURE. I WILL TRY TO MAKE THIS GUIDE MORE ORGANIZED AND MANAGEABLE AS I ADD MORE TO IT.
NOTICE: YOU USE THIS GUIDE AND ITS CONTENTS AT YOUR OWN DISCRETION. I AM NOT LIABLE FOR ANYTHING YOU DO IN REGARDS TO YOUR COMPUTER, OR ANYONE ELSE'S COMPUTER.